Your Bedroom – The Key to a Restful Sleep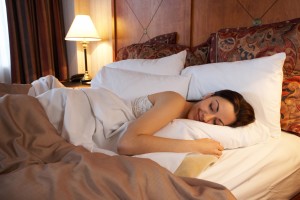 (BPT) – Whether snuggling in for the night or just trying to catch a few winks, your environment plays an important role in determining if you're counting sheep while trying to go to sleep or counting Zzzs. From noise reduction to lighting, here are a few easy ways you can turn your bedroom into a tranquil oasis.
"A third of the adult population suffers from insomnia from time to time, but only about 6 percent meet the criteria for an actual sleep disorder," says Dr. Christina Brown from the Florida School of Professional Psychology at Argosy University, Tampa. "In a good number of cases, getting to sleep and staying asleep is a matter of your surroundings."
Kristina Held, assistant professor of Interior Design at The Art Institute of Charlotte, a campus of South University, focuses on areas of the bedroom that you may want to re-evaluate in order to create the sleep haven you've been craving.
"Creating a bedroom that is conducive to your most restful sleep might require a bit of homework, but I think you'll find it won't take you long," Held says. "As an interior designer, I like to focus on lighting, bedding, furniture and decor."