Why Cannabis Works for "Everything"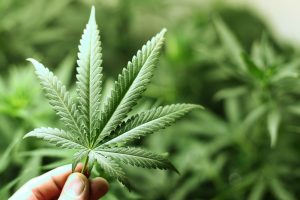 Cannabis is unique among the medical plants because its benefits are especially wide-ranging. This popular plant may perk you up, yet cannabis can also promote sleep. It can stimulate appetite, but it can suppress appetite too. What explains the opposite benefits? Your endocannabinoid system!
About Endocannabinoid Systems
Humans and most other animals have endocannabinoid systems (ECS). Most adults didn't learn about their own ECS in high school. Researchers didn't identify it until the 1990's.
The Main ECS Setup: Receptors & Chemicals
Your ECS runs throughout your body. Scientists have found endocannabinoid receptors in the brain and many other organs, connective tissue, glands and immune cells. Some receptors are mostly in the central nervous system, and others are distributed further from your core. Endocannabinoid receptors are also part of breast milk. These chemicals are important neurotransmitters, though lesser-known than dopamine and serotonin. They are your endocannabinoids…and explain why cannabis can work in so many ways! Because, you see, receptors for endocannabinoids are shaped just right for cannabinoids, the molecules that cannabis makes for its own well-being. Sometimes whats good for the plant is good for the person too.
CBD: A Non–Intoxicating Marijuana Extract
Cannabidiol (CBD) oil has become the popular new product in states that have legalized medical marijuana. The non-intoxicating marijuana extract is being credited with helping treat a host of medical problems – everything from epileptic seizures to anxiety to inflammation to sleeplessness.
What Is CBD? – It's short for cannabidiol, a natural compound extracted from the flowers and buds of marijuana or hemp plants. It does not produce intoxication; marijuana's high is caused by the chemical tetrahydrocannabinol (THC).
How Do You Take It? – You can take CBD oil by itself by mouth, or use one of the many products in which it is an ingredient. These include pills, chewable gels, tinctures you drop under your tongue, vape cartridges you breathe in, creams on your skin, and foods like cookies and chocolate bars.
Does It Make You High? – CBD doesn't, THC is the chemical that does. If you use a CBD product, check the label and make sure that's the only cannabinoid listed.
Is It Addictive? – CBD oil is not. CBD products that also have THC can be. The key is to know the source and check the ingredients and the amounts so you know exactly what you're using. The caution is that the amount and quality of CBD in these products can be very different and that it is difficult to find products that have no THC.
Is CBD FDA Approved? – The FDA has approved only one CBD-based drug to treat two rare types of epilepsy: Lennox-Gastaut syndrome and Dravet syndrome. It's approved for adults and children over age 2. The FDA has not yet stepped in to regulate products like CBD oil. States are struggling to put regulations in place.
Can It Ease Pain? – Scientists are working to see if helps with arthritis, helps relieve nerve pain (also called neuropathy) and helps to relieve muscle spasms linked to multiple sclerosis. More research is needed.
Does It Help Inflammation? – Early studies show CBD may help especially if it's related to arthritis, MS, diabetes, or Alzheimer's. Scientists are trying to prove if and how it works.
Is It Good for Your Skin? – CBD might be a treatment for acne. It seems to help with both the inflammation that leads to breakouts and reduce the amount of fatty acids in the blood. It may also protect skin cells from damage.
Are There Side Effects? – CBD doesn't seem to cause serious side effects. When used to treat epilepsy or psychotic disorders, people reported tiredness, diarrhea, and changes in appetite. But CBD can affect how other medications work, so be sure to tell your doctor about everything you take, including vitamins and supplements.
For recreational purposes the number and variety of CBD products available at our local Cannabis dispensaries is amazing. Everything from brownies and cookies to vape cartridges and skin creams are there to select from. Each of these selections has different proportions of CBD and most also have a significant percentage of THC.
If you are taking CBD for medical purposes, seek out a doctor who has knowledge about the extract and its uses to monitor your condition.
Most of the information found in this article can be found on WebMD.com