Top 10 Bathroom Trends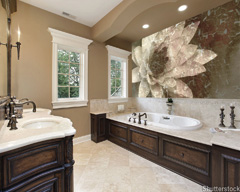 As America's economy strengthens, remodeling and home renovations are on the rise. "Homeowners are looking for ways to update their current homes, rather than buying a new property," said Sarah Reep, director of designer relations and education at KraftMaid Cabinetry. "From simply adding a new faucet to completely gutting a bathroom, there are many ways to revitalize any home." For homeowners seeking inspiration for their bathroom renovation, here are the top trends to know:
Doubled Vanity: Dual sinks and vanities make cramped morning routines a thing of the past. With separate sinks and vanities, homeowners get the individualized spaces and storage they desire in their bathrooms.
Radiant Heat: Stepping onto a cold tile floor after a hot shower isn't the best way to start the day. An easy remedy is adding radiant electric heating to floors. Some companies install heating mats controlled by a thermostat under tile, stone, laminate and engineered-wood floors.
Seeing Green: The National Kitchen and Bath Association (NKBA) reported that 24 percent of their designers used a green color palette in their clients' kitchens last year. KraftMaid, a leader in the semi-custom cabinetry industry, offers cabinetry with color finishes-such as Sage-that can add a burst of color to bathroom walls.
Added Storage Space: "Homeowners are looking for ways to decrease clutter and increase organization in their bathrooms," said Reep. For the homeowner with dozens of bottles, jars and accessories, KraftMaid's vanity filler pullout creates storage while saving space with its slim vertical design.
Walk-In Showers: Homeowners are replacing the conventional tub and shower combinations with walk-in showers. Large glass doors and earth-tone tiles are being combined with luxury showerheads and water jets for a spa-like feel.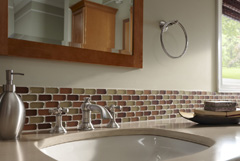 Satin Nickel Faucets: From 2009 to the end of 2010, the percent of NKBA designers who specified a satin nickel faucet in the bathroom rose from 45 percent to 57 percent. Brushed nickel faucets in the bathroom fell from 66 percent to 38 percent.
Recycled Flooring: With the increased focus on sustainable materials, tiles made from recycled ceramic, glass and metal are in. Look for companies that use recycled materials and sustainable manufacturing practices to create their tiles.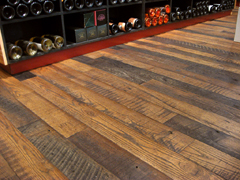 A Hint of Nature: Wood and stone are in-demand materials for bathroom design. Wooden soaking tubs and stone tiles and bathtubs retain heat well and add a natural feel to any bathroom.
Fine Furniture: The right vanity can transform a mediocre bathroom into a luxurious escape. "Homeowners want their bathroom cabinetry to resemble the elaborate pieces in their living room," said Reep. "Standard bathroom cabinets are being replaced by cabinetry with rich finishes and detailing."
Quartz Countertops: According to the NKBA, 54 percent of NKBA designers are now incorporating quartz into their bathroom designs, compared with 48 percent in 2010. The low-maintenance mineral boasts a higher durability against cracks and dents than marble. DeNova sells quartz surfaces in a wide range of custom colors and patterns.
Whether you enjoy following the housing trends or prefer the tried-and-true styles, there is a variety of new products to add beauty, value and functionality to any home.