Tips to Keep in Mind for New or Improved Landscapes
Are you considering a new or improved landscape, but need help getting started? Here are some tips to keep in mind during the planning phase to ensure your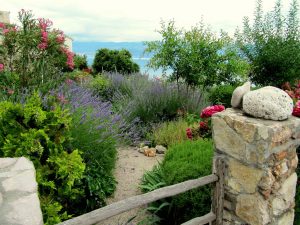 landscape will look beautiful, perform well, and provide you with many years of enjoyment:
Be Water Wise! Consider local water supply availability. Although most parts of California are officially no longer in a drought, areas such as ours that rely solely on groundwater are still facing water supply shortages due to historical over-pumping. Locally, it is estimated to take many years of average rainfall to restore groundwater to levels that protect against seawater intrusion. With this in mind, it's best to plan for resiliency and choose water-wise plants such as California natives. Consider skipping turf grass altogether, especially if it will only be used for ornamental purposes.
If you're planning to hire a contractor, select a Monterey Bay Certified Green Gardener. You'll be working with a professional trained in ecological landscape practices that conserve water, reduce waste and prevent urban storm water pollution. For a list of Certified Green Gardeners, please see http://green-gardener.org/hire-a-green-gardener/
Trees please! One of the lessons we've learned from the historic drought is how important landscapes are, especially trees. Trees add value to your home, create shade to cool your home and neighborhood, and provide wildlife habitat. Also, most trees can take alternative forms of irrigation water, such as graywater.
Know your soil and assess sun exposure. Performing a soils test will give you the exact information you need to properly amend your soil so that it provides the right environment for your plants. Also, note any structures such as trees, fences, etc., that affect the sun/shade exposure and choose the right plant for the right spot.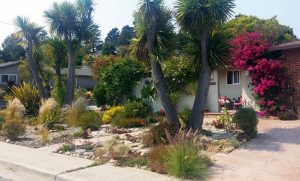 Resist the urge to overplant. Know your plant sizes at maturity and space them accordingly. It takes less water to establish fewer plants and saves the work of "editing" later on.
Don't forget the mulch! Mulch reduces evaporation and plant irrigation needs.
Please visit soquelcreekwater.org or call (831) 475-8501 ext. 146 for rebate information, landscape handouts, water cost questions or general inquiries. THANK YOU for helping to make our community a statewide leader in water use efficiency!