This Spring, Renew Your Home Decor!
Start Fresh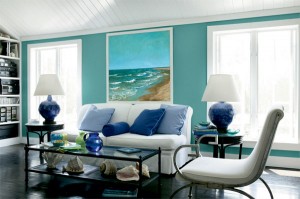 This spring renew your home decor
As the seasons change, many people start fresh making positive changes. As you consider changes in your life, consider where you spend most of your time. Your surroundings influence your mood and a refreshed interior can help you step forward into a new, improved lifestyle. Enjoying life more in 2012 could start with just a few simple updates to your home.
Color
One of the most obvious signs of a changed style is color. An easy, cost-effective way to modernize your home is to change your wall's color. There are a broad range of colors available to fit any style or taste to create a cohesive, modern atmosphere. Painting is a weekend project that can completely transform your home. When purchasing paint, a quality product will ensure the result. Inexpensive paint often requires several coats – resulting in more time and money spent. Using a premium line of paint guarantees excellent hide and durability. Remember that a quality product will achieve the best result and save you time and money in the long run.
Accents
Whether your taste is classic, natural, rustic, or modern, accessories have a huge impact on the feel of any room. Mirrors, wall hangings, table art, pillows and floral arrangements are some examples of accents that change the look and feel of a space. Don't be afraid to combine materials and styles. An ornate brass mirror can work well to complement the clean lines of a modern end table or the intricate fabric of an antique footstool. Avoid clutter by using baskets, chests and other storage pieces to conceal magazines, books and other common items.
Rearrange
Don't underestimate the effect rearranging your furniture can have on your space. Changing the layout of a room costs nothing and can have a dramatic impact on the functionality and atmosphere of your home. Try placing larger furniture pieces against the wall to open up floor space and avoid blocking walking paths. Or you might arrange your sofa or elongated pieces of furniture at an angle in the corner of the room to give the illusion of a longer wall and creating hidden storage opportunities. Don't be afraid to try something new. You might try rearranging every few months to keep things fresh.
Lighting
Consider changing the lighting. Whether it's a large hanging fixture, wall sconces, standing lamps or recessed can lights, adjusting your lighting will affect the ambience of any room. For most spaces, a mixture of light sources works best, and a visit to a lighting store will confirm the options are endless. While some lights serve functional purposes, others may serve as pure decoration or to highlight an aspect of the room, such as a piece of artwork. And remember that adjusting the locations of table and floor lamps can have a dramatic impact your room's feel.
Bring your home into 2012, in style and update your color, accents, layout and lighting to start fresh. By focusing on a few key areas, you can enjoy an improved living space easily and affordably.