Shipping Container Homes
Shipping containers have become the hottest trend in living spaces. No longer are they just for parking on your property for storage or for shipping products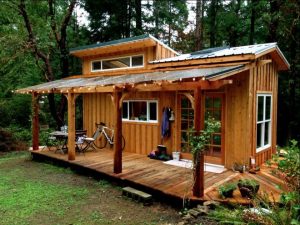 across the oceans but can also be converted into a beautiful environmentally conscious home built using recycled building materials. Due to their convenient size, shipping containers are well-suited for use in houses and their appeal lies in their apparent simplicity: you get a room delivered in one piece, and you can stack them together to make multiple rooms or join them up to make larger rooms.
There are many pros and cons to weigh before deciding to build a container home. So, is it just a trend? For now, it does not seem like it. With entire offices, schools, and even restaurants being built from shipping containers, the options are endless.
One of the perks of building a container home is that the frame is already there. This means, depending on the architecture, construction time is a lot quicker and at lower costs. Because most container homes are built with used containers, they are considered to be eco-friendly. Of course, if you are purchasing a used container make sure you look at it first and find out what the contents were when it was being used. You might consider having the container(s) you buy fumigated to make sure there are no toxins within. A favorite option is the "One Trip" Container. Although it has brought over one cargo load from where it's been manufactured, it's only been used once and is still clean and new.
The first thing to do when considering a container home is to plan your budget. One of the largest expenses when building a shipping container home is actually purchasing the shipping containers. They typically cost approximately $1,800.00 to $5,000.00 apiece depending on their size. Standard shipping containers are 8' wide, 8.5' high and come in two lengths; 20' and 40'. Extra tall shipping containers called high-cube containers are available at 9.5' high. Choosing the right container is absolutely crucial to both your budget and the success of your project. Whichever type of container y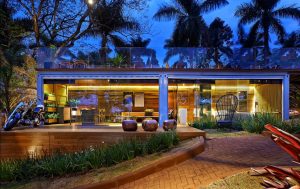 ou buy (new or used) make sure that they are all the same brand. Manufactures use slightly different measurement tolerances when making the containers, so building with different brand containers can sometimes be difficult.
What are the specifics of the house you want to build? How many bedrooms will your home have? How many stories will it have? Do some research; price out your materials, appliances, and such. Check shipping containers first—it might take a while to actually have it delivered to your house site and the shipping is not free. Scour the salvage yards at demolition sites, recycle shops, and junkyards. If you spy something you want at site, make sure you ask first. Usually they will give it to you or if they charge it will be minimal. You know the old saying, "One person's junk is another person's treasure"!
Shipping container homes are relatively simple to build. They go up in almost no time at all and are built to last forever. Don't forget, they are designed to hold up to 57,000 pounds. There is a good amount of preparation, construction and tune-up projects necessary for turning a shipping container into a home. This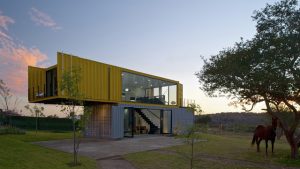 includes setting a foundation, cutting frames for doors and windows, insulating, installing utilities, and adding a roof and flooring. Properly insulated, they can make for a warm and cozy home in the winter. There are also effective ways at making them resistant to excessive heat. They can withstand practically any extreme weather, such as hurricanes, tornadoes and earthquakes. Standing alone, a metal shipping container can handle 100 mile per hour winds. Securely anchored, it can take winds up to 175 miles per hour. You can also rest assured that it will never collapse during an earthquake. By far, they make for the safest storm shelters.
If you're looking for economy and a house that is ecofriendly, a shipping container home is for you. Do your research, plan your budget, and before you know it your new home will be ready for you to move in!