Rest & Relaxation with Fire Pits, Fire Tables and Outdoor Kitchens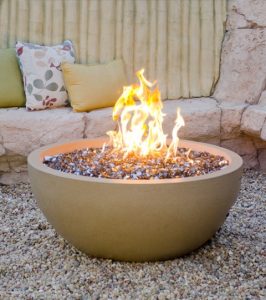 No longer will a wood deck with a grill do for many homeowners wanting to enjoy their backyards. These days, accessorizing means amenities like beautiful flowing water features, flower beds, rock gardens, outdoor kitchens and fire pits that warm and relax you. When choosing a fire pit or fire table, you should consider your size and the look you want to achieve. Your choices should be based on your space, style and budget. Here's what else to consider before planning a fire pit or fire table and dreaming of cool, moonlit nights with the crackle and glow of a fire.
There is a wide range in cost depending on what you want to achieve with your backyard including the cost of your dreamy accessories. Some of the factors are weather it is permanent or portable. If you're looking to landscape around your fire pit and add seating purchase a nice quality built portable unit. But costs certainly can also go up to several thousand dollars if you want a beautiful space that is long lastly for years to come,
As you begin planning, you may want to think in terms of permanence, do you want a fire pit that is built in — a focal point in the yard — or have it be an accessory to an outdoor kitchen. For a built-in design, you generally want to match materials that already exist in you're garden or home. You can purchase a fit pit or fire table at a local store and hire a landscape professional or contractor to design around it.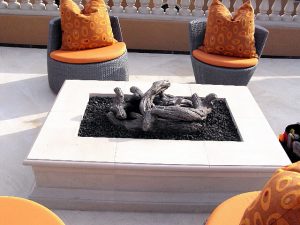 Portable fire pits offer a lot of different options. There are fire bowls that come in a variety of materials — copper or stainless steel bowls are just a few to mention, usually their lighter, but heavier cast iron bowls also do a nice job of radiating heat. Fire tables are similar to bowls but are often made at coffee table height. There are also chimney-style options (freestanding pieces with a chimney-style vent) that come in a range of materials. Regardless of which style you choose, you need to make sure that you're using proper stones and materials. Make it proportional to the size of your yard, and be sure you have room for seating and circulation.
Think about your options wood or gas. While there are alternate fuel types like gel fuels, wood or gas seem to be the most common choices. Those who favor a true outdoor smell usually prefer burning real logs, if you do a screen is a good idea in that case. It also requires a steady supply of firewood.
Some fire pits use gas or propane for an instant fire — maybe even powered with a remote switch — though it's not as hot as a wood fire but it is a cleaner easier alternative to wood. Some dual-fuel fire bowls and tables let you do both; and you can design a built-in fire pit to do the same if that's the look you want to achieve.
It's best to set a portable fire pit atop a natural surface such as concrete, stone, gravel or slate on a fire-resistant composite. A permanent fire pit is typically built on a base of gravel or one of the recommended surfaces.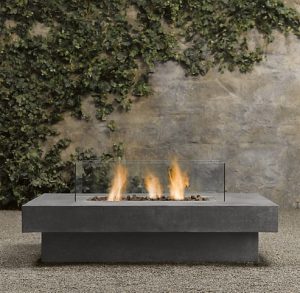 At least a minimum of a 15-foot distance from your house and neighbors' yards, you should always consult with a professional on the design and layout of your yard. Some don't require a permit if the fire pit fits within set size requirements; others require a site inspection from local fire officials to help make sure your proposed location is safe (away from fences, structures, overhanging branches, etc.). Check with local officials before you purchase or start planning a fire pit.
To enhance your enjoyment, consider installing outdoor lighting near the pit. Make it subtle to avoid destroying the campfire mood, and try to use energy-efficient LEDs can be plugged into a nearby outlet without making it necessary for you to hire an electrician. You may also want to consider seating: Maybe metal chairs in a classic Adirondack style, or a low stone wall that's at least 18 inches high, 12 inches wide, and 2 to 3 feet from the pit for safety.
A fire of any kind — no matter the size — demands serious attention to safety. The National Fire Protection Association and, or your local fire department can offer the following fire pit safety advice and more:
Check wind direction before you light a fire.
Don't use flammable fluids (gasoline, lighter fluid, etc.) to light or relight fires.
Don't wear flammable clothing (like nylon) or any loose-fitting clothing.
Avoid using soft woods like pine or cedar, because they can "pop" and throw sparks.
Make sure to keep children and pets at least 3 feet or more away from the fire.
It's also important that you know how to safely dispose of the ashes when you're done with the fire for the night.
Fire pits and tables along with outdoor kitchens can be enjoyed to years to come an investment that will be enjoyed by family and friends.