Protect Your Baby from RSV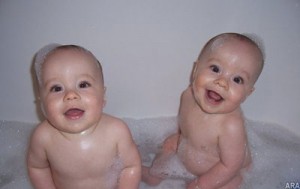 Like most parents, Kari and Lyle Judson had never heard of respiratory syncytial virus, commonly known as RSV. But in December 2008, when RSV took the life of one of their twin sons, those three letters forever changed their lives.
Kari gave birth to preemie twin boys, Alexander and Dominic, both weighing well under 5 pounds. When the boys' lung function proved "normal" for preterm infants, they were declared healthy and were discharged without any warning about the dangers of RSV during the winter months.
RSV is a common, seasonal virus which can lead to symptoms similar to the cold or flu. While the virus affects nearly 100 percent of babies before the age of 2, those most at risk for developing severe RSV disease are premature babies – those born before 36 weeks gestation. Premature babies have underdeveloped lungs and fewer of the vital antibodies needed to stave off infections, so they are not as well-equipped to fight RSV as full-term babies. Other risk factors for RSV include: low-birth weight (less than 5.5 pounds), certain lung and heart diseases, and situational risk factors such as attending daycare, having pre-school or school-aged siblings, or exposure to tobacco smoke.
With their parents unaware of the dangers that even a play date could present, Alexander and Dominic enjoyed their first months of life. On Dec. 28, 2008, however, both boys began displaying signs of listlessness and developed fevers – hallmarks of RSV disease. They were taken to the local hospital, where Alexander's condition quickly worsened and he was not responsive to breathing treatments. Due to the severity of his condition, Alexander was airlifted to a specialty hospital, but while in transport, he lost brain function due to lack of oxygen and was put on life support.
Even as they were dealing with the tragic loss of Alexander, the Judson family still had to face Dominic's severe RSV infection, which required breathing treatments and an 11-day hospital stay.
While deaths are not common, RSV disease causes up to 10 times as many infant deaths each year as the flu, resulting in up to 400 infant deaths annually in the U.S. Additionally, RSV disease is the leading cause of infant hospitalization in the U.S., and is responsible for one of every 13 pediatrician visits and one of every 38 trips to the emergency room. In fact, Kari found herself back at the pediatric pulmonologist's office when her third son, Ryan, developed a mild RSV infection, requiring breathing treatments.
Because there is no treatment for RSV disease, Kari and many in the medical community say the importance of prevention can't be emphasized enough.
"I want all parents to know about the dangers of RSV and what they can do to protect their little ones from this virus," says Kari. "We're so thankful Dominic and Ryan both recently received clean bills of health, but we will continue to be alert for symptoms of RSV disease and take steps to prevent the spread of germs, especially during the RSV season."
Parents should do the following to help protect their babies from RSV:
* Understand the risk factors and ask a pediatrician if your child may be at increased risk
* Help prevent the spread of the virus with frequent washing of hands, toys and bedding, and avoiding large crowds and those who are sick
* Carefully monitor your baby's behavior for warning signs like a severe cough or wheezing; difficulty breathing or rapid, gasping breaths; blue color of the lips, mouth, and/or fingernails; difficulty feeding; fatigue and fever
"I've seen how seriously RSV can affect babies and their families," says pediatric critical care physician Dr. Paul Checchia, director of the Cardiovascular Intensive Care Unit at the Texas Children's Hospital and professor of pediatrics at Baylor College of Medicine. "While frequent hand washing is the best defense for most families, babies at the highest risk may need extra precaution and should talk to their baby's doctor."
Visit www.RSVprotection.com for more information.