Preparing for a Home Sale, Organizationally
By Pam Hudson
Spring and summer are peak home sales seasons, but not every seller has a home that's ready for listing and sale, as most realtors will tell you. The thought of preparing for a move can seem overwhelming, but with a methodical plan, creating a visually serene environment for home buyers and editing for a pack up is attainable and can be surprisingly cathartic.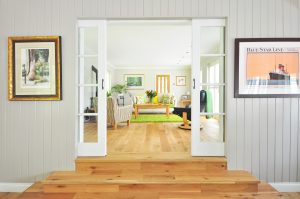 Tip top tidy for top dollar: First and foremost, your home needs to be in tip-top shape for listing to ensure top dollar. Knowing that strangers are going to open cabinets, closets and drawers as they try to envision their own belongings in your home is added motivation to tidy up and make the home look pristine and free from your personal items and clutter.
Clean slate: Moving from one home to another also presents an ideal opportunity to start fresh in a new place, without the excess that's accumulated over the years. If your garage, attic and spare bedroom are crammed with boxes and bags of things you haven't touched in years, there's no reason to move it to your next home without first evaluating if you'll need it, if it works, or if you still even like it. Use this event to keep what you use and like, and free yourself from the unnecessary items that bog you down.
Physical repairs vs aesthetics: You'll likely hire a handyman, gardener or cleaner, or enlist your family, to do repairs and paint walls, green up the yard for optimum curb appeal, shampoo the once-fluffy carpets and polish the scuffed floors. But beyond that, the living space inside the home and garage needs to scream tidiness, entice potential buyers, and give them a blank canvas with which they can picture themselves in this home.
Sort, edit and pack: Don't fret about where to start the process — just pick a space and dive in! As you make your way through a room, have your moving boxes, packing materials and sorting bins ready, and move swiftly. I encourage my clients to be decisive, and not get caught up in sentimentality.
Your goal is to pack up your cherished and personal items, edit out the things you will not be taking to your new home, and leave just enough so that your family can still function until you move. Remember, potential buyers need to get perspective based on typical furniture placement.
Place "like" things together so that when you move them and unpack them in your next home, they're all together. Sorting categories that make the process efficient are toss, recycle, shred, pack and donate, which can be done effortlessly. If the mice have made a nesting area out of your Halloween decorations and if the National Geographic magazines from 1968 are moldy or smell mildewy, it's an easy decision to toss it out. If there's a "keeper" item that's in an irrelevant place, relocate it to the right place. And if you are really on the fence about something, don't let it derail your momentum — put it in a sorting box to consider later. Is it headed to your next home or ripe for donation? Once you start to see free space, you'll gain momentum and motivation, and you'll lighten the load for the movers.