Living on the Edge… of Monterey Bay
The Lebherz Home
By Noel Smith
The family had used the property for the past fifty years as their weekend and holiday hideaway. But as so often happens, after the kids grew up, the home on the edge of Monterey Bay was not used very often by their parents. A revelation then occurred to the once-upon-a-time children who grew up loving their childhood memories, "We can rebuild it for our children and grandchildren to enjoy!"
Matson-Britton Architects of Santa Cruz was given the task of replacing the aging beach house on the property with a structure that is designed do the site justice as a modern and spacious family getaway. Using the romance of coastal Mediterranean architecture, the house features a connection between the inside and outside architecture.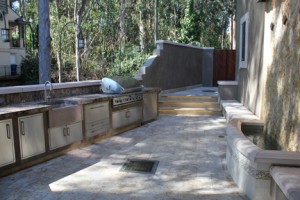 The location of the new home is wondrous. From its 40-foot perch, it overlooks the entire sweeping curve of Monterey Bay from Capitola to Pacific Grove. There were challenges because the property not only is on a cliff, but also slopes down to a creek bed on one side. Making sure that the house would be built to the latest in engineering requirements was just the start, the real magic of design is planning for the needs of three generations from grandchildren, to parents, to grandparents, in one residence.
The bay-facing facade is highlighted by the two story stone tower which on the first floor encompasses the dining area and on the second, a mahogany paneled office/den. The great room on the first floor features a full service kitchen with a large island for shared cooking and informal meals. This main living area opens out on to the ocean facing patio which fills the large space with sweeping seating walls and walks of stone and flagstone from the house to the fence that guards the edge of the cliff. Overlooking the bay in this outside gathering area there is a stone fire pit to come together around for those cool evenings on the coast.
On the second floor the master bedroom suite, its balcony, and the den all have the same breathtaking view of Monterey bay. Down the long hall is the children's room with a loft and a second suite which has it's own loggia overlooking the eucalyptus trees and the sea beyond.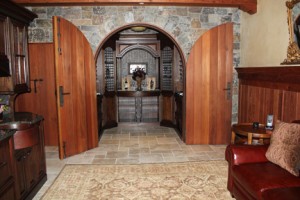 The basement houses a wine cellar and tasting room lined in stone with custom mahogany cabinets. The 8'-0" tall arched plank doors to the wine cellar as well as the wainscoting and beams are all made from redwood reclaimed from the original house. The basement also has a wet bar and an entertainment system and is a great place for the grandchildren to play.
Designed with niches and deep window ledges, there are many places in the house to display the family's art as well as some of the original decorative objects from the first house. The custom wrought iron handrails connect all three levels seamlessly. The house also contains stained glass work, a custom fountain, and an outdoor kitchen. And even though it is a relatively small house (3,200 sq ft) for three generations to share, it truly is a palazzo to the Lebherz family.