Kitchen Remodel: Get High-end Looks for Your Kitchen Without the High Price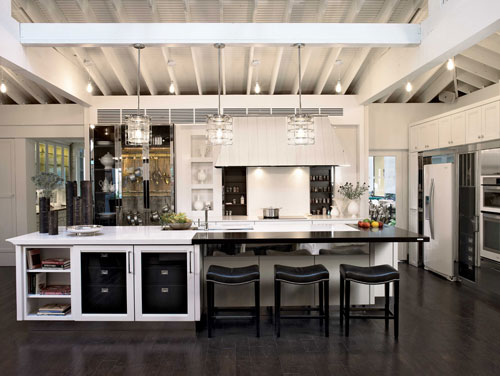 Don't give up on your kitchen design dreams just yet. There are several ways to bring a high-end look to your home without the high price. With a little inspiration, research and proper planning, you can have a picture-perfect kitchen that will look as though it's been lifted from the pages of the top home design magazines. Get started creating your dream kitchen with these tips.
Be inspired: Browse magazines, home design blogs and websites like Pinterest or Houzz to gather inspiration. Take note of the kitchens that catch your eye and what it is that you like most about the design. Many of the things that you're drawn to are within your budget.
Assess your space: Take stock of the space you currently have and consider the layout and the work triangle. A smart layout can create a more spacious and efficient kitchen no matter the square footage.
Design for your style: Whether your style is classically traditional or more contemporary, there are cabinets, appliances and fixtures to fit. Whether your budget is under $10,000 or more than $50,000, you'll take pride in having a kitchen that was designed with your style and needs in mind.
Get help: It's easy to be tempted with extras during the kitchen design process, and costs can quickly add up. Work with a professional designer to set and manage the budget, and help determine areas to invest and where to cutback. If you're drawn to elements of luxury kitchens, share that with your designer for ways to achieve a similar look.
Let cabinetry set the stage: The cabinetry you choose can set the stage for the entire kitchen. While many high-end kitchens will have custom cabinets, you can achieve a similar look with semi-custom cabinetry at a fraction of the cost and without the extended lead times. There are many cabinetry companies that offer flexibility with its vast selection of door styles, finishes and decorative enhancements that span the spectrum of design tastes and price points.
Customize with color: Combining contrasting colors, textures and materials creates visual interest and can make your kitchen remodel look custom. Try adding some color by varying cabinetry finishes and countertop materials. Add a backsplash with artistic glass tiles to let your personality and style come through.
A kitchen remodel can be stressful on you and your wallet, but if you're committed to your design dream, it's likely you'll find ways to achieve it.