Ideal Sleep
Oh, joyous sleep, the sweet elixir that makes every new day fresh with promise and possibility. If you're getting adequate amounts of deep and REM (dream state) sleep each night you are quite possibly among the happiest and healthiest. The Center for Disease Control records show that here on the central coast up to 36% of us report that we are not getting adequate sleep. In addition to the cranky, lethargic feeling that comes with a restless night, this lack of sleep puts us at a higher risk for a number of health issues such as heart disease, COPD, cancer and depression.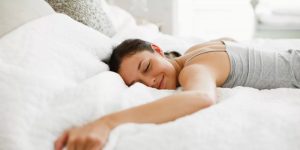 So what's stopping us from getting that good rest? Stress, lack of exercise, obesity, and smoking are among some common factors that the CDC cites. Setting (and sticking to) good bedtime routines and creating the ideal sleep environment are also important and among the easier aspects to address when searching for sleep solutions. If we consider some of the common sleep disruptors we can best address what makes for an ideal sleep environment.
One major disruptor is temperature. A lower body temperature signals the brain that it's time to sleep and conversely, a raise in our internal temperature moves the body into a state of alertness. Raising our body temperature via late-day exercise, exposure to the short wavelength-enriched light from electronic devices, and sleeping in a warm room and heat-retaining bedding all have a significant effect on our circadian rhythms.
In addition to temperature, a reduction of oxygen to the brain during sleep can leave you feeling unrested and forgetful during the day in the short term, and with serious health issues in the long term. Reduced oxygen uptake can be caused by drinking alcohol, smoking and obesity but also happens naturally as the upper airway relaxes during sleep. Some are particularly prone to snoring and sleep apnea when the airway relaxes and when the head and neck are not properly supported this restricts airflow even more.
The right height and firmness of pillow for your body and preferred sleeping positions will properly support the head and neck and is the first step in creating the ideal alignment for your body during sleep. This not only enables optimal air flow but assists in reducing gastro esophageal reflux disease (GERD) and chronic back, neck and shoulder pain.
Your pillow and mattress should work together to support your body and create a neutral sleep position – one where your spine is straight from head to hip. To do this, your mattress should offer targeted support where needed while yielding to reduce pressure on shoulders and hips.
With the right sleep environment of ideal temperature, deep easy breathing and proper body alignment you are well on your way to a restorative and restful sleep.
Visit SC41 Furniture to learn how you can create your ideal sleeping environment with the Oxygen Pillow for proper head and neck support, the latex sleep wedge to help alleviate GERD, wool comforters to regulate body temperature and mattresses tailored to each body to create optimal alignment and support.