Homemade Blueberry Poptarts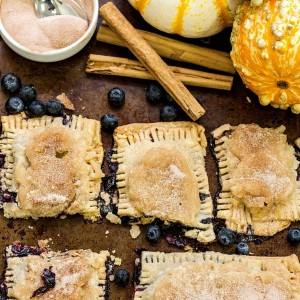 INGREDIENTS:
For the crust:
1 1/2 (3 sticks) cups cold butter, cut into small cubes
1 cup all purpose flour
2 cups whole wheat pastry flour (I use Bob's Red Mill)
1 egg, beaten
5 tablespoons cold water
1 tablespoon apple cider vinegar
1 teaspoon salt
For the filling:
12 ounces of California Giant Blueberries
The zest and juice from one lemon
¼ cup of sugar
½ teaspoon of cinnamon
¼ teaspoon of sea salt
For the glaze:
¼ cup of butter (browned)
2/3 cup + 2 tablespoons of powdered sugar
2 tablespoons of pure maple syrup
1 ½ teaspoons of vanilla extract
Cinnamon and sugar for sprinkling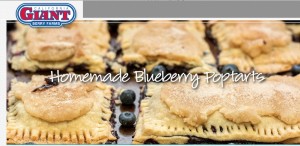 DIRECTIONS:
Prepare your favorite pie crust recipe. Place your prepared crust in the fridge, until you are ready to roll out.
For the filling, combine blueberries, lemon zest and juice, sugar, cinnamon and salt in a bowl. Set to the side.
On a floured surface, roll out your pie dough. Cut the dough into rectangles (about 4"x 6"). Spread a layer of the blueberry mixture over one of the rectangles, and then cover with another rectangle of dough. Crimp the edges with a fork. Repeat until you have used all of the dough.
Bake in the oven for 20-25 minutes or until golden brown. It's ok if the blueberry filling starts to run, I think they are even more beautiful that way!
While the pop tarts cool, prepare the glaze. In a medium size pan, brown the butter. Then whisk in powdered sugar, maple syrup and vanilla. The glaze should be slightly thick. Drizzle the glaze over the pop tarts, then sprinkle with cinnamon and sugar.