Growing Delicious and Juicy Tomatoes
For many people, growing tomatoes is part of what makes vegetable gardening so enjoyable. Whether purchasing plants from your local nursery or starting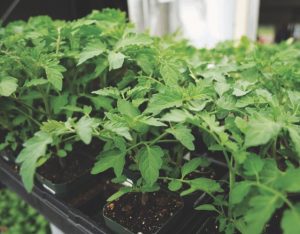 tomatoes from seed, there are a few basic steps to follow to ensure that you harvest an abundant crop at the end of the growing season. There are many different varieties of tomatoes to choose from, depending on whether you will be cooking, canning, slicing, or eating miniature or grape-like varieties right off the vine. Sweet 100 cherry tomatoes are sweet, bite-sized, and disease resistance. They are perfect for snacking, salads, or juicing. Roma tomatoes are good for making salsa, because the peels are not as tough as others so you don't need to peel the skins off. Romas are also known as the classic paste and sauce tomato. There are Early Girls, Early Boys, Big Boys, Big Mamas, Sweet Baby Girls, Beefsteaks, French Rose hybrids, Big Rainbow, specialty tomatoes and many more. Start by choosing the kind of tomato you would like to grow.
Starting your plants from seeds is a good way to go but will take longer from seed to tomato. Tomatoes grown from seed will require six to eight weeks before they can be planted in the garden. Purchase individual containers or flats, starter soil or mixture, and the seeds of your choice. Fill each container with soil, pressing it tightly to remove air and to avoid settling problems after watering. Typically, seed companies print instructions for planting right on the tomato seed package. Each variety is a little different so follow instructions carefully. Prepare a label identifying the type of tomato and the date started. You can make your own from Popsicle sticks or purchase them at the store or garden center.
Insert your label in the pot and mist with water. Place containers in a sunny window and keep seeds moist by placing a plastic bag over them. Small greenhouse containers are also available at your local nursery. Watch for seeds to germinate and remove plastic when plants emerge. Wean out weaker looking seedlings to give strong ones more room to grow. Keep moist by misting or watering tomatoes when needed. When plants have a second pair of leaves it is time to transplant these seedlings to your garden or a large pot in which they are to grow.
Before planting your tomato set it in the direct sun during the day and bring it in at night. This will acclimate it to the outside temperature and it will adapt better to the outdoors.  After a few days, the tomato plant will have gotten used to its new surroundings and can be transplanted in the desired location. Place plants directly outdoors after the threat of frost in a shady location, out of the wind and protected from heavy rains.
If you prefer to purchase plants from your garden center or greenhouse, select dark green plants that are stocky in size and that do not have any fruit. The fruit will stunt the plant growth and the total yield will be reduced. Tomatoes are one of the few plants that will tolerate being planted deeper than they sit in the pot. A taller plant can be placed a little deeper if preferred. Tomatoes prefer full sun, so choose an area with at least six to eight hours of sun per day. Practice crop rotation in your vegetable gardening by planting tomatoes and other vegetables in a different spot every year. Tomatoes prefer to be planted by chives, parsley, marigolds, nasturtiums, garlic bulbs, and carrots. Avoid planting tomatoes by potatoes or members of the cabbage family.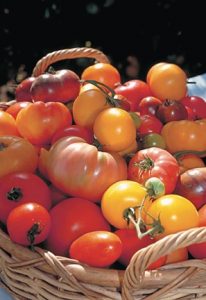 For large healthy tomatoes, give them plenty of room to grow. Space plants twenty-four inches between rows and leave twenty-four inches between plants. With your shovel or spade, make holes slightly larger than the plants. Tap gently on the bottom of the individual container, loosening the soil and gently removing from the pot. Tomatoes are susceptible to cutworms, but placing a 3-4 inch nail next to each stem before planting or wrapping strips of newspaper around the bottom of the stems will help prevent these pests. A paper cup surrounding the stem also works well.
Place tomato plant in hole and back fill with soil until it is well compacted. Tomato plants can get wild while growing, buy a tomato cage for each plant and place it over the small plants. As they grow the cage will contain the plant. Water around the base of the plant, avoiding the foliage. Do not over water or soak the seedlings as this can promote disease and rot. Water early in the day to discourage blight.
Most tomatoes take 100-days to bear fruit, so follow these easy directions and get ready to harvest the fruits of your labors and enjoy that first BLT of the season.
Items Needed For Growing Tomatoes:
– Tomato seeds or plants
– Containers or flats
– A small greenhouse kit or plastic bags
– Starter soil or mixture
– Marking pen
– Popsicle sticks or labels
– Rake
– Spade and shovel
– Water, sun, adequate soil and patience
Varieties that grow well in our area:
Super Bush (close to the coast)
Stupice (close to the coast)
Camp Joy Cherry (foggy areas)
Jaune Flamme (foggy areas)
Sungold (cherry tomato)
Better Boy
Early Girl
San Francisco Fog
Cherokee Purple (heirloom)