Gathering in the Backyard: Tips for having Outdoor Parties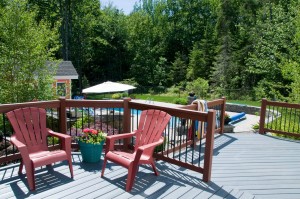 Having guests over to your house doesn't necessarily mean you have to keep everyone contained inside. Open the doors of your home to your backyard to provide a relaxed ambiance for your guests. And with good lighting and comfortable seating, they will enjoy socializing and hanging around until well after the sunsets.To prepare your backyard for such a gathering, make certain you have the following so guests will be comfortable the entire evening:
Seating: No matter if your hosting a casual gathering, or something a bit more formal, guests will want to sit down to socialize. Make certain your patio, deck or grassy area have small groupings of chairs and benches within a short distance of food and drink tables, allowing guests to group together to share stories about friends and family. If you don't have enough seating, consider asking neighbors to lend you chairs, or rent extra chairs from a party store for the evening.
Tables: Place small tables throughout the backyard on which guests can easily rest plates and drinks. You can rent counter-high small tables at a party rental store, or place traditional-height tables near the gatherings of chairs to help make your guests more comfortable. During the evening, check the tables to pick up used plates and cups to keep the backyard looking refreshed.
Lighting: Having the proper lighting is crucial for providing the right ambiance and to keep your gathering going well after the sun goes down. Chase away the darkness with recessed, low voltage accent lighting from Deckorators in stairways, railings and pathways so guests can easily negotiate these walkways, and provide a soft glow over the gathering with illuminated balusters and post caps, allowing guests to see and interact with other guests.Deckorators accent lighting features the latest energy-efficient LED technology which is inexpensive to run and perfect for late-evening entertaining. Low voltage is a safe and easy way to add attractive lighting elements to a deck, whether for function or style. Instead of flooding your deck with unflattering, harsh incandescence, create a dramatic, show-stopping outdoor living area with subtle illumination that calls you to relax and enjoy your outdoor retreat long past sunset.
Music: Playing music during the gathering is always a nice element to a party, and can greatly enhance the theme. Consider installing speakers throughout your backyard to provide a surround-sound experience. But also be certain to check your community noise ordinances on nighttime volume restrictions, and let your neighbors know that you will follow those regulations so your party will be sure to end on a good note with them and the authorities.With these plans in place, your next gathering of family and friends will be a magical event, not just during the daylight hours, but well into the evening. Be prepared for encore requests after you successfully pull off an outdoor party encompassing your entire backyard.