From the Farm to the Table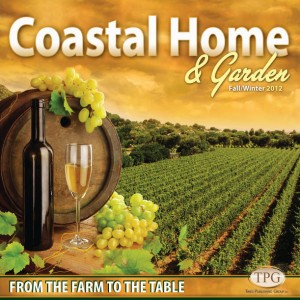 By Courtney Dimpel
The Central Coast is known for it's beautiful beaches, its mountains and their stands of redwoods, and its "slow pace." However, one can't really appreciate the hundreds of thousands of acres that produce some of the worlds BEST produce, until you see it. Geographically comprised of Watsonville, Salinas, Gilroy, Aromas and adjacent areas, the Central Coast has become an Agricultural Hub when it comes to growing Berries, Artichokes, Lettuce, Apples and yeah, Poultry.
People often lose a connection with where their food comes. Yes, it's hard to form an association with food that comes from far away places, which is the case with big-name supermarkets. However, most of our local grocers make an effort to bring in a "local" offering from farmers in the surrounding area. There are also great farmers markets locally, and roadside stands that offer food from fields found in one of the best areas to grow food in the WORLD, literally our own back yard.
These local growers are an important part of county, and contribute to the recipes that feed our families in addition to the economic well being of our community. These farms include the short list of Giant Strawberry, Driscoll Berry Farms, etc., etc., etc. This article only scratches the surface of what these local growers do for the Central Coast and various parts of the world to which they ship the fruits of their labor. Do some research and visit some markets near you – your body and mind will thank you for it!
Berries: Blackberry, Olallieberry, Raspberry, Loganberry and of course Strawberries!
The first local Strawberries grown for commercial use were planted by two nurserymen, J.A. Blackburn and James Walters, who planted a half-acre of berries in 1876. However, inability to irrigate those first crops put a stop to their efforts. This problem was solved by Corralitos Water Company, who laid the first pipes for irrigation in the early 1880's enabling farmers to expand their crops. Some one hundred thirty years later California is responsible for more than 80 percent of the fresh market and processed strawberries grown in the United States on about 50 percent of the country's strawberry acreage, which is about 20 percent of the world's total production. On average, California productivity per acre is over 4 times higher than found in most other states.
The Central Coast also produces a hefty number of Blackberries, Olallieberries, Raspberries, and Loganberries for consumption. The production and export numbers of the Raspberry locally continue to rise to that of the Strawberry and Raspberries mirror the Strawberry season in length. The Blackberry, Olallieberry and Loganberry seasons are short, but the berries are popular because they pack a powerful punch in size and flavor.
Blackberries are extremely productive with good cultivation, and may be successfully grown in this climate without irrigation. The Loganberry is a cross between the Blackberry and Raspberry. The fruit more resembles the blackberry in form but the color is a dark red. The Loganberry was accidentally created in 1883 in Santa Cruz, California, by the American lawyer and horticulturist James Harvey Logan (1841–1928). During this time, berry growers began to cross varieties to obtain better commercial fruit.
There are many annual Festivals and Fairs that celebrate the Berry harvest including the Santa Cruz Strawberry Festival in June, and Santa Cruz County Fair in September.
Wines: If you've seen the movie "Sideways," then you know it's tough to turn down a good Pinot Noir. Santa Cruz and Monterey have very diverse microclimates that lend it very well to growing Pinot, which likes a cooler crisp growing environment. Many local vineyards have tasting rooms including Bargetto Winery, Corralitos Winery, Bonny Doon Vineyard and Thomas Fogarty Vineyard.
Artichokes: Fields of Artichokes surround the little town of Castroville known as the "Artichoke Center of the World." This is where Marilyn Monroe, then known as Norma Jean Baker, got her start as the first artichoke festival queen. Andrew Molera (Molera Road) for whom the state park near Point Sur is named planted the first artichokes in these parts in the 1920s. Now more than 3/4ths of the world's crop comes from our area and they are grown and harvested by hand. On the Central Coast, artichokes grow year round. The peak production occurs from March to April. Following their harvest, plants are mowed and then cut back at ground level to encourage regrowth. Artichokes are a cool-season crop that grows best in low temperature climates, which is why you'll typically see crops near the ocean.
Lettuce: Lettuce may not have the sex appeal that berries, artichokes, apples and chickens do, but it does play a huge supporting role when it comes to our salad bowl and use of acreage on the Central Coast. There are four main types of lettuce grown in the fields surrounding Santa Cruz, Salinas and Monterey including leaf, romaine and butterhead. These varieties do well in coastal climates due to the cool temperatures. High temperatures can cause plants to "bolt" resulting in bitter tasting leaves, and loose fluffy heads.
Apples: When someone says Apples in Santa Cruz County, most think of Gizdich Ranch the apple farm located on 55 Peckham Rd or Prevedelli Farms at 375 Pioneer Rd in Watsonville. While they may not serve the world apples, they certainly serve the community at large. Hosting numerous elementary school field trips, tours, and events, Gizdich goes far and beyond the call of duty when it comes to educating and building a family around their apple and berry farm.
When it comes to California exports, the state is responsible for 8.5% of the national production, with over 38,500 bearing acres of apples. Historically, apple production was limited to the coastal mountains north and south of San Francisco Bay, in the Sierra foothills east of Sacramento, and in the Southern California Mountains. Recently apple production has expanded into the Central Valley, with new plantings of Granny Smith, Fuji, Gala, and other varieties. Fall brings harvest time to many apple orchards here in Santa Cruz and Watsonville, and is a great time to rally the troops to pick and pull for pies and apple butter that make great gifts for loved ones around the holidays.
Poultry: The Central Coast is home to many local poultry farms as well, including Glaum Egg ranch, which is a poultry farm known for supplying some of the best organic eggs around. These local egg farms sell to independent grocers and farmers markets in addition to having the coolest egg vending machine at their headquarters in Aptos.
These are just some of the agricultural highlights here on the Central Coast. Be sure to visit our farmers markets to get a better idea of the variety and the quality of food grown close to the Monterey Bay in our region of California.