Fresh & Juicy Melons
Fresh, juicy melons make a tasty addition to meals or can be enjoyed as a refreshing small snack. Bite into watermelons and cantaloupes from Florida for a sweet taste that can be enjoyed in all kinds of dishes.
Add to salads, make an iced drink, or enjoy them fresh off the grill. Florida melons are also a great source of vitamin A and vitamin C.
"Watermelons are one of the most refreshing fruits available. Serve a slice of this delicious fruit for guaranteed smiles at any age," says Justin Timineri, Executive Chef and Culinary
Ambassador, Florida Department of Agriculture and Consumer Services.
"Since cantaloupes are both sweet and savory, try thinking outside the box while enjoying them.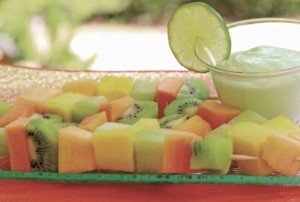 For more fun and flavorful melon
recipes, visit http://bit.ly/flmelons.
How to pick the perfect melon
The exterior of a ripe watermelon should be smooth and waxy green, with or without stripes. Watermelons will not ripen after picked, so it is important to pick a ripe one at the market. A good cantaloupe is symmetrical with the blossom end soft enough to be depressed with slight pressure. Avoid overripe melons with lumps or soft spots.
How to clean watermelons
Before cutting your watermelon, wipe it down with a clean cloth and slightly soapy water. Every part of the watermelon is ready to eat, including the rind and seeds.
Cooking tips for watermelons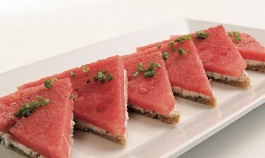 Did you know the fiber-rich rind of water-melon can be pickled, candied or turned into jam or jelly? The seeds are highly nutritious, packed with protein, vitamin E and potassium. Try them roasted in the oven on low and salted for a healthy, tasty snack.
Grilled and Chilled Watermelon with Feta & Mint
Ingredients
Yield: 6 servings
• 1 small Florida watermelon,
about 6 pounds
• 1/2 cup small fresh Florida
mint leaves, hand-torn
• 2 ounces feta cheese,
crumbled into large chunks
• 1 tablespoon olive oil
• 1 tablespoon balsamic vinegar
• 1/4 teaspoon sea salt
• 1/4 teaspoon black pepper
Directions
Slice watermelon into 1-inch slices. Heat grill or grill pan over high heat until very hot. Two at a time, grill watermelon rounds about 2 to 3 min-utes each side until charred. Transfer watermelon to cutting board and cut into wedges, discard-ing rind. Place watermelon wedges in refrigerator until chilled. Arrange wedges on plate. Sprinkle with mint and feta. Drizzle with oil and vinegar, then sprinkle with salt and pepper.
Chef's Tip: To cut watermelon into rounds, lay melon on side and cut through rind and flesh with sharp knife.
Kids Can: Sprinkle watermelon with feta and mint.
Grown Up Alert: Adults should cut watermelon and handle all grilling.