Food and Wine Pairing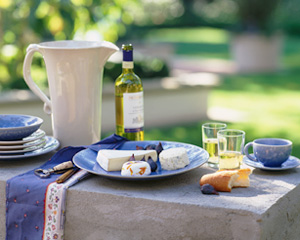 The Rules of Food and Wine Pairing
Rule 1 – Red wine with red meat, white wine with white with white meat (Fowl and fish) works very well as a general principle. A tannic red wine would overwhelm a delicate white fish, while a light white would seem wimpy alongside a filet steak.

Rule 2 – There are exceptions. Although roast chicken counts as a white meat, it goes very well with a fruity red. So do salmon and fresh tuna, thus shattering the notion that you should not serve red wine with fish.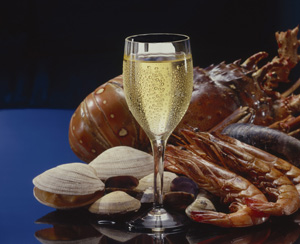 Rule 3 – Match similar with similar. This rule makes sense when you look for a wine with aroma and flavor characteristics that bring to mind the trademark flavors of your entree. A rich, slightly sweet seafood like crab or lobster can go well with a slightly sweet, rich white wine like California Chardonnay. A sprig of rosemary added to your pan-grilled steak matches suitably with the herbal qualities of a Cabernet Sauvignon or a Bordeaux.
 Rule 4 – Rule of contrasts… or opposites can attract. This can lead to some marvelous surprises. Don't be afraid to experiment!
Rule 5 – Drink what you like! Don't be the wine "expert" who insists that only his/her answers are correct. Don't forget the standard rules, but if you want a Chardonnay with your steak, go head and try it.
Food and wine pairing is a highly subjective and imprecise process. The old rules don't take into account the broad range of wines from all around the world and today's multi-ethnic and delicately flavored foods that are now available.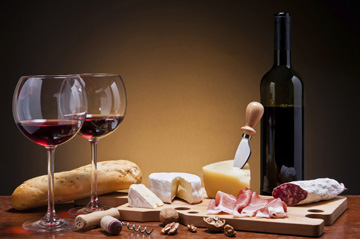 Vineyard tours and wine tastings are a great way to learn which wines you favor. Beginning with the foods and wines you like, you probably won't go wrong.
General Principles
You should develop a familiarity with convention and then an understanding of why the suggested combination usually works. The goal is synergy and balance so that the wine won't overpower the food, nor the food overpower the wine.
Wine drunk by itself tastes different than wine with food, because wine acts on food similar to the way a spice does. Acids, tannins and sugars in the wine interact with the food to provide different taste sensations.
Wine can enhance the flavor of food. A good match will bring out the nuances and enhance the flavors and unique characteristics of both the food and the wine.
Memorable food and wine pairing is achieved when you find similarities and/or contrasts of flavor, body (texture), intensity, and taste.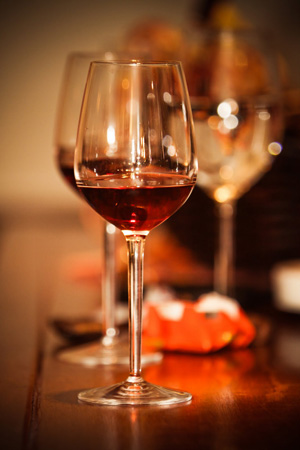 Above all, don't stress over the perfect food and wine pairing. The best pairing is good food, good wine and good company. Friends and loved ones are the most important ingredients.