Design Your Dream Outdoor Kitchen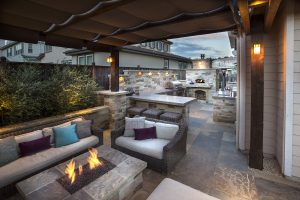 It often starts as empty space on the patio, usually somewhere just outside the back door. Then come the "things" to fill the space. There's so much to consider that it gets difficult to make a decision.
According to a 2018 survey of residential landscape architects by the American Society of Landscape Architects, one of the most popular features to fill that space is the outdoor kitchen.
The first two decisions
Outdoor kitchens expand a homeowner's opportunities to gather together with family and friends. However, just like indoor kitchens, outdoor kitchens must be designed thoughtfully."
The first decision is to pick a location and pay attention to the prevailing winds. Wind direction and where the kitchen is located could cause smoke to blow into guests or even into the house through an open window. Keep the grill downwind of guests.
The second decision has to do with grill placement. Do you want the cook to face the guests, or look at the scenery?
It's important to keep the cook in the party. It makes the outdoor kitchen less of a workplace. When the cook can talk to the guests, the space becomes more social and enjoyable.
Zoning it out
Maximum enjoyment also comes when everything else is in its proper place, or zone. There are four zones in an outdoor kitchen – wet, cold, hot and dry. Getting these in the right combination makes prepping food, cooking and cleaning much easier.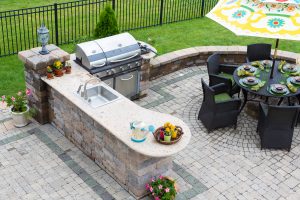 Keep the cold zone next to the wet zone. This makes it easier to move things from the cold zone refrigerator to the wet zone sink to wash them off and get them ready for the grill in the hot zone.
Zones are especially important when a pool is nearby. Keep the cold zone nearest to the pool. It will keep kids who want a cold drink from running past a hot grill.
A key to proper zoning is counter space. Grills should have a minimum of 24 inches of uninterrupted space to one side and 12 inches to the other. This gives the cook nearby room to place platters, cooking utensils and more.
If there's not room for that amount of counter space, incorporate an open-shelf cabinet below. You get additional 'counter space' by being able to put things on shelves.
An outdoor kitchen is a long-term investment that will enhance a home. With the right planning behind it, homeowners and their guests can enjoy it for many years.