PORTER CONSTRUCTION, Inc.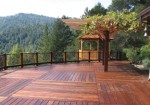 Retaining Walls, Fencing and Decks, Remodeling, Drainage, Drilling and Excavation, Mold and Dry Rot Removal and Repair, Windows and Doors-Call for a free estimate.
Porter Construction is an established contracting business with 36 years of experience specializing in Retaining Walls, Drainage Systems, Remodels, Foundation Solutions, Waterproofing, Woodwork, Fencing, Decking, Driveways, Erosion Control & much more. Call for an estimate.
Send Message to listing owner
PORTER CONSTRUCTION, Inc.