Berry Good Tips & Recipes from Cal Giant
Berry Good Tips & Recipes from Cal Giant
Did you know that in addition to topping the list of people's favorite fruits, berries are packed with nutrients to support a healthy diet? They may be little, but boysenberries, blackberries, raspberries, strawberries and blueberries, are big on antioxidants. In addition to antioxidants, berries are great for losing weight because their high water content bumps up the volume while driving down the calories.
Cal Giant tips for selecting and storing fresh strawberries, blueberries and blackberries as you prepare your favorite recipes.
Be sure to wash your berries just before serving and with strawberries, leave the green caps on when washing
Strawberries: select those with a full red color and fresh looking green caps and should be completely dry in their containers. Keep refrigerated in a sealed container lined with a paper towel or to freeze, wash, cut off the green tops, cut them in quarters, add a bit of sugar and freeze in 3-6 oz portions for smoothies, salads, shortcake or cereal.
Blueberries: they should be firm with a bit of a white powder called 'bloom' which protects the skin. Blueberries can be used right away or just pop them in the freezer for later for cereal, smoothies, pies and muffins.
Blackberries and raspberries: Keep refrigerated, or freeze them whole for later use.
Baked Blueberry– -Citrus Pears a la' Mode
Ingredients
• 2 D' Anjou pears ripe but firm
• 1/2 cup low-fat granola (no raisins)
• 1 tbsp chopped almonds
• 1/8 tsp. nutmeg
• 1/2 plus 1/8 tsp. ground cinnamon
• 1/2 cup California Giant Blueberries
• 1/2 cup fresh orange juice
• 1/4 cup orange marmalade
• 4 pieces fresh orange segments, membrane & pith removed
• Vanilla frozen yogurt
Directions
1. Preheat the oven to 375 degrees°F. Keeping the stems intact; slice each pear in half lengthwise. Carefully spoon out the core and centers of pears, leaving about a 1/2 in. thick shell. Place pears, cut-sides down, on paper towels to drain any juices.
2. In a small mixing bowl, gently combine the granola, nutmeg, a scant 1/2 tsp. cinnamon, and 1/4 cup blueberries.
3. Spoon the granola-blueberry mixture into each pear (you may need to cut a thin slice off the bottoms of the pears so they sit flat). Place pears in a 7 by 11-in. baking dish. Pour orange juice into the dish around the pears and sprinkle the remaining cinnamon over the orange juice and pears.
4. Place the dish on the center rack of oven and bake until the granola mixture is golden brown and pears are hot and tender, approximately 20-25 minutes.
5. Remove pears to a medium-large serving plate. Whisk the marmalade into the juices in the baking dish until combined. Add orange segments and remaining blueberries, toss to coat.
6. Serve with a scoop of frozen yogurt. Spoon the marmalade syrup and fruit around the serving plate, drizzle over pears and frozen yogurt. Enjoy!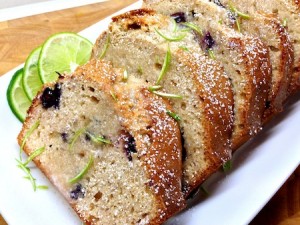 Blueberry Gingerbread Loaf with Lime Glaze
Ingredients
• 1 -15 oz box Concord Foods Blueberry Muffin Mix
• 1½ cups California Giant Blueberries
• ½ tsp Ginger
• 1 tbsp Cinnamon
• 3 tsp freshly squeezed limejuice
• ¾ tsp lime zest
• 1/2 cup non-fat Greek yogurt
• 1 tbsp vegetable oil
• 1 egg
• 1/2 cup light coconut milk
• 1/3 cup unsweetened shredded coconut
• 2/3 cup chopped pecans
Ingredients for glaze
• 1/2 Tbsp light cream cheese, softened
• 1/2 cup icing sugar
• 3 tbsp limejuice
• Cinnamon and icing sugar for garnish
Directions
1. Preheat oven to 350 degrees F. Spray loaf pan (9X3) with non-stick cooking spray.
2. Combine Concord blueberry mix, cinnamon, ginger, lime zest, coconut, and mix until combined.
3. Mix in Greek yogurt, egg, limejuice, oil, coconut milk. Stir in blueberries.
4. Mix in chopped pecans. Stir until combined. Pour into greased loaf pan.
5. Bake in preheated oven for approximately 1 hour (60 minutes) or until a toothpick or cake tester inserted comes out clean. Let cool in pan 5 minutes, then remove from pan and cool completely.
6. Mix softened cream cheese, 3 Tbsp limejuice and icing sugar together with a whisk, ensuring to get out all of the cream cheese lumps.
7. Drizzle glaze over top and refrigerate 5 minutes until glaze firms up, then sprinkle cinnamon and icing sugar on top.
Servings; 8
With Blueberry Muffin Croutons, topped with Lemon & Honey Vinaigrette
Ingredients
Croutons
• 1 – 15.1 oz. box Concord Foods Blueberry Muffin Mix
• 1 large egg slightly beaten
• 1/2 cup milk
• 1 cup fresh California Giant blueberries, slightly mashed with fork
• 1 teaspoon fresh Meyer lemon zest
Salad
• 1/2 Tbsp light cream cheese, softened
• 1/2 cup icing sugar
• 3 tbsp limejuice
• Cinnamon and icing sugar for garnish
Dressing
• 6 Tbsp extra virgin olive oil
• Juice from 1 and 1/2 Meyer lemons
• 2 Tbsp honey
• 1/8 tsp. sea salt
Directions:
1. Line an 8×11″ rectangular baking tray with enough parchment paper to over hand the sides of the pan by 1/2″.
2. Stir together the Concord Blueberry Muffin mix, egg, and milk until combined. With a fork, slightly break apart the blueberries and fold, along with the lemon zest, into the batter until just combined. Using an offset spatula, spread the batter out onto the prepared baking tray and bake at 400 degrees for 20 minutes.
3. Remove the tray from the oven. Lift the parchment paper from the baking tray and place onto a cutting board. Cut the dough into small 1/4-1/2″ squares. Return the squares to the baking tray (without the parchment paper) and bake for an additional 10-12 minutes until golden and slightly crispy. Set aside.
4. Place all of the dressing ingredients into a jar with a tight fitting lid. Shake until the ingredients are emulsified.
5. Assemble the salad by arranging the spring mix onto a large, oval serving platter. Top with fresh California Giant blueberries, sliced almonds, and cubed Brie. Drizzle the dressing over the salad and top with blueberry croutons. Serve immediately.
Sautéed Strawberries with Cinnamon & Fresh Lime
Ingredients
• 2 tablespoons honey or 1 teaspoon agave nectar
• 1 tablespoon butter
• 1 tablespoon limejuice
• 1 teaspoon ground cinnamon
• 1 pint California Giant strawberries, washed, hulled and halved (about 2 cups)
Directions
1. In medium skillet over medium-low heat, stir together brown sugar, butter, limejuice and cinnamon. Cook until bubbling.
2. Add strawberries and toss for 2 minutes.
3. Remove from heat and serve immediately. Great over Greek Yogurt!
Tropical Strawberry Smoothie
Ingredients
• 1 cup fresh California Giant strawberries, stemmed
• 1 cup fresh pineapple chunks
• 1 container (8 ounces) low-fat piña colada yogurt
• 1 cup orange juice
• 1 cup ice cubes
Directions
In container of blender, combine all ingredients except ice cubes; blend until smooth. Gradually add ice cubes with blender running; blend until smooth.
Makes 2 servings (about 2 cups each serving)
Cooking with the Berry Best!
Download the free Recipes for a Healthy Life eBook. Recipes that are equal parts healthy AND delicious. Featured are: • Recipes for every meal of the day, even snacks and desserts! • Easy-to-make low-cal, gluten-free and meatless dishes! • Culinary and lifestyle tips from popular bloggers! • Hints and how-to's to help you excel in the kitchen AND the gym!
Download the free Berry Sweet Baking Guide! Featuring delicious, fresh blueberries! The award-winning recipes in this eBook were submitted during our recent Berry Sweet Baking Contest. Now you can warm your homes and delight your family and friends with the unmistakably sweet aroma of freshly baked, blueberry-filled dishes.
Go to: calgiant.com/ for free eBooks and to http://calgiant.com/news/offers for the latest in Berry news