7 Tips for Bountiful Organic Gardening in Small Spaces
You too can grow an organic urban garden nearly anywhere. With a few tips and tricks from our organic gardening expert, David, you'll be well on your way! We've seen awesomely functional urban gardens everywhere from fire-escapes, to rooftops, to side-yard aisles only a few feet wide.
Harvest a variety of plants, fruits and herbs throughout the season and at different times
Grow the right plants that will work in harmony with each other in the garden
Learn how to use vertical gardening to save ground space and maximize your harvest
Learn how to amend your soil and optimize watering habits for a happy garden!
We were skeptical of planting in such a small space, but now our small garden produces more food than we ever thought possible. Our demo garden started with a few carefully tended rows of vegetables and ornamental plants.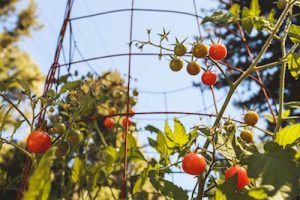 VERTICAL GARDENING MAXIMIZES GROUND SPACE
To make the most of our space we use the fence as a trellis. An espalier apple tree, climbing green beans, cucumbers, nasturtium, raspberry cane and a sprawling grape vine call the fence home. These plants grow upwards using the fence as support.
They shade more delicate plants planted below them and take up very little ground. Trellising, staking or caging other plants so they grow upright also saves space. Dave grew 3 varieties of tomato in one large tomato cage this year which resulted is a gigantic tower of tomatoes!
PLANT A VARIETY OF ONLY WHAT YOU NEED
Planting small amounts of different plants in groupings based on their water and feeding needs, we can harvest a wide variety of produce from just a 3′ by 3′ portion of the garden at a time.
If you have a small space, plant one squash instead of two, a handful of carrot seeds instead of the whole packet and so on. Also, staggering your planting will give you produce that is ready to harvest at different times during the growing season and you won't end up with waste from over planting an area all at once. Of course, you can always preserve, pickle, or can your surplus produce.
PLANT ITEMS SUCH AS "CUT AND COME AGAIN" LETTUCES
These type of greens and vegetables are a good idea in a small space because they can be harvested over a long period of time, one leaf or bunch at a time. This is another tip that allows you to maximize ground space while also being able to harvest from one area of the garden throughout the season.
TIP: planting herbs mixed in with your vegetables will add a culinary benefit and beauty.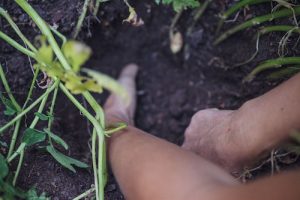 WATERING AND FEEDING ENSURE PLANT HEALTH
Special attention needs to be paid when watering plants in a small garden space. Not every fruit or vegetable has the same water and feeding requirements. Planting things together that have similar requirements allows you to water just that area when it's needed and not the entire space.
For example, tomato plants do not require the same amount of water as newly sewn carrots and beets.
SOIL PREP AND MAINTENANCE FOR WELL-FED PLANTS
Rather than bring in bagged soil or heavily amend the soil in the demo garden, Dave regularly top-dresses, mulches and weeds to help build the soil fertility over time. He also uses a pick or hoe to break up the harder ground and get oxygen to the plants roots.
When he first puts a plant start or seeds in the ground, he adds a layer of compost to give the new plants a boost of nutrients and mulches with straw or Gardener & Bloom Compost. Dave uses Angus's top-dress recipe (see below) to regularly feed the garden but with less worm castings than the recipe calls for.
HARVESTING AT THE RIGHT TIMES
Now that we are well into summer Dave is harvesting from the demo garden EVERY day. Even on his days off. And, we all occasionally stop as we pass and pick a handful of raspberries or a ripe tomato.
That is the benefit of staggering your planting and not planting too much of one thing. Having a variety of plants gives us the ability to literally cook straight from the demo garden.
DAVE'S VERSION OF ANGUS'S TOP-DRESS FERTILIZER
This recipe makes enough top-dress fertilizer for one (1) 12′ X 12′ garden bed…
Ingredients:
1lb. Kelp Meal
1lb. Dolomite Lime
1/2-1lb. Crab Meal
1/2-1lb. Fish Bone Meal
1 lb. Worm Castings and/or Compost
Instructions:
Place all ingredients in a wheelbarrow or on a tarp and mix well
Add approximately 1 cup to 1 quart to each plant depending on its size. Increase the dressing amount as the plant grows
If you don't use it all in one application keep it mixed well during storage to keep it aerobic.